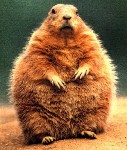 On February 2nd, our forecast for the future (or at least for how long winter will last) is told by one little groundhog. Groundhog Day is celebrated in the US and Canada and lets us know if spring is on its way or if we have 6 weeks left of winter. Want to know more about this unique holiday? Check out our Groundhog Day trivia:
There is only one official Groundhog Day groundhog, and his name is Punxsutawney Phil. If you think that's a mouthful, that's actually the shortened version! His full name (as declared by the Punxsutawney Groundhog Club) is "Punxsutawney Phil, Seer of Seers, Sage of Sages, Prognosticator of Prognosticators and Weather Prophet Extraordinary."
When Punxsutawney Phil emerges from his hole on February 2, if he sees his shadow there will see 6 more weeks of winter; if he doesn't, there will be an early spring.
The holiday originates with German settlers, who adapted it from their native celebrations of Candlemas
Iin 2012, Punxsutawney Phil's prediction will be the 126th prediction made!
Many revelers gather in Punxsutawney, Pennsylvania each year to hear the famous Groundhog's prediction. Since the 1993 release of the film "Groundhog Day", starring Bill Murray, the audience has grown even larger.
So what are you rooting for? An early spring or 6 more weeks of winter? Share in the comments!
And spread a little groundhog fun with our Groundhog Day ecard!