March 17th marks the holiday of St. Patrick's Day. It's a fun opportunity for the Irish to celebrate, typically with free-flowing beer and festive parades. You should also be sure to wear green, the traditional color of Ireland, or else people are allowed to pinch you! I find that aspect of the holiday annoying but wear green nonetheless. No need to get unnecessarily pinched!
St. Patrick is considered the main architect of the Christianization of Ireland. Hr is so venered by the Irish that his birthday was chosen by the Irish Government to be their National Day.
This holiday has many followers around the world, thanks to expatriates or descendants of Irish emigrants who have imported the holiday to their new locales. Nearly every town has an Irish pub, and on this holiday you will certainly see many green-clad beer drinkers out and about!
The History of Saint Patrick
Saint Patrick, patron saint of Ireland, was not born in Ireland but in what is now northern England, around 385 AD. As a teenager he was kidnapped by Irish pirates and sold as a slave. He lived in Ireland as a shepherd until he was twenty. As the story goes, one day he had a vision in which God suggested he escape and return to his homeland. He did and succeeded, but shortly after being reunited with his family, he realized he no longer felt at home in his native country. He traveled extensively before returning to Ireland where he settled permanently, this time voluntarily. He devoted himself to preaching the gospel and converting people to Christianity. The clover became associated to this holiday because he was using it in his sermons as a symbol of the Holy Trinity.
Legends and Symbols of Saint Patrick
A legend says that St. Patrick rid Ireland of snakes by throwing them all into the sea, but there was one stubborn snake that would not go. St. Patrick placed a small box in front of him and commanded him to enter. The snake said the box was too small to contain him, using that as his excuse to not get in. But St. Patrick insisted in was large enough. In his desire to prove St. Patrick wrong, the snake slithered into the box just to prove to Saint Patrick it was too small for him. No sooner had the snake entered the box than the wily St. Patrick closed it and threw it into the sea!
The legend is a metaphorical way of explaining St. Patrick's work who, in reality, eradicated many pagan rites (symbolized by the snake).
In addition to the symbol of the clover, leprechauns are common representations of the holiday. These mischievous sprites love to play jokes on people. According to legend, they store their pots of gold at the end of rainbows, and if you are sneaky enough to find it before the leprechaun sees you, you can keep it. I'll tell you something, though. Once when I was in Ireland (true story!) I literally saw the end of a rainbow on the beach and there was no pot of gold. So either he spotted me on the way there or leprachauns don't exist. I'll let you decide!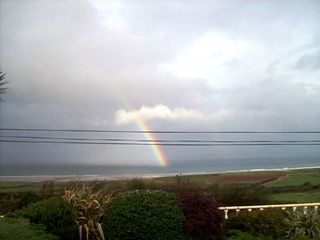 Get in the St. Patrick's Day spirit and spread some green with one of our St. Patrick's Day ecards!